The Let's Read Family Reading program is a multi-generational approach to family reading. Built to inspire a tradition of reading in the home, Let's Read offers an action packed hour each week for caregivers and children to laugh, read, and play together. Each session centers on a weekly theme and includes age appropriate books, crafts, and reading tips. At the end of each session, families leave with a brand new book, strategies for reading in the home, and great memories!
This program is ideal for schools, housing developments, neighborhood groups, or any organization invested in seeing parents and children shout, "Let's Read!" The new term of Let's Read has just begun and participating families are so excited! At a session at the Kansas City Neighborhood Academy, we asked parents to write down some lessons or tips that they learned through the program that they would take home with them. Some of the things they wrote include:
Interacting with your kids is important
Be patient from start to finish
Reading with expression draws your child's attention and makes it more exciting
Making puppets that are book characters are helpful to act out the story
It is okay to let the children take the lead in reading
Read with enthusiasm and excitement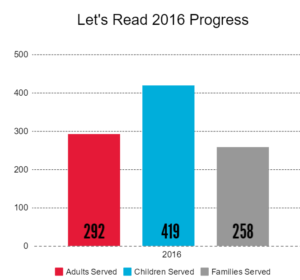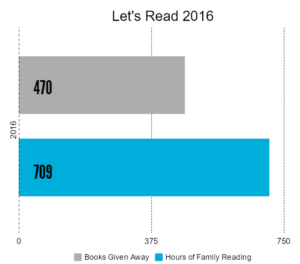 We are proud that the Let's Read Family Reading program is providing parents with the right tools to bond with their children through reading activities. In 2016 so far, Literacy KC has given away 470 books for free to families after sessions to take home and read with their children. During Let's Read sessions, families have logged 709 hours of family reading! The program has served 258 families in the Kansas City area made up of 292 adults and 419 children. As we push forward to the end of the year, we are hopeful that families will continue to learn and grow as they continue to read with one another.
Interested in getting involved with the Let's Read Family Reading program? Contact Kate Brown at kbrown@literacykc.org or call 816-333-9332.