At Literacy KC, 2016 was a year full of student progress and development! Our flagship program, Ticket to Read, meets students where they are both academically and geographically. Adult learners complete a basic literacy assessment before joining the Ticket to Read class that will best meet their learning needs. Classes are small with up to 14 students, and the classes are supported by a team of volunteer tutors and a qualified staff instructor. Classes typically meet for three hours a week on a variety of days, times, and locations throughout the metro. Our class levels vary in approach in order to hone in on each individual student's needs. Ticket to Read classes are split up into two groups:
Adult Basic Education (A&B Level Classes)
The Adult Basic Education Ticket to Read classes help emerging readers solidify their ability to sound out and break down words. Using the Pathways to Reading curriculum, Adult Basic Education students gain skills that lay the foundation required for reading success. Students also work on specific life goals, read relevant stories, and begin developing spelling and writing skills.
Pre-HiSET (C&D Level Classes)
The Pre-HiSET Ticket to Read classes are for any adult seeking a high school equivalency, improved reading skills, or for teens and adults who want to build study skills in a safe, tuition free environment before launching into college. Pre-HiSET Ticket to Read students can be found reading and discussing books, writing research papers, or working on Reading Plus, an online software program that helps students increase their reading speed and accuracy while building vocabulary.
Over the course of the past year, our students have been dedicated to improve their reading, writing, math & digital skills, and ultimately, their lives. Paid staff & instructors supported by volunteer tutors have been there to help each student as they learn and grow. Our partners, board of directors, and the community at large have been crucial components for organizational success and involvement. We've worked very hard on perfecting the curriculum so that it is age and level appropriate in order to maximize each student's potential. The graphic below depicts some of the 2016 Ticket to Read highlights, outlining some of the ways Literacy KC is helping to change lives beyond words: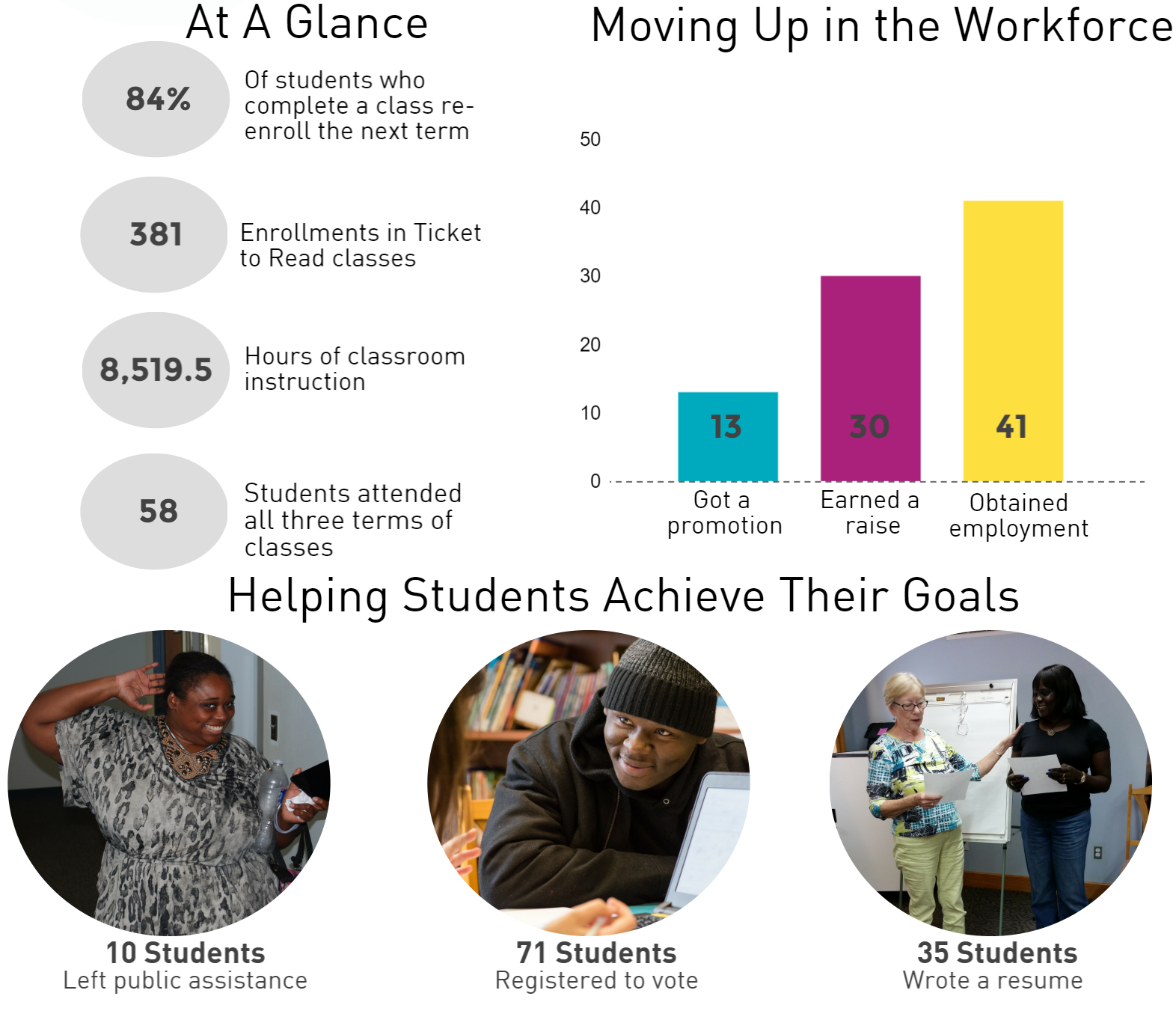 Some other notable student accomplishments from this year are as follows:
6 started their own business
39 purchased a home computer or laptop
86 completed an online form
145 wrote a check or paid bills
107 purchased books or magazines
164 read their mail
46 increased their involvement in their children's literacy or educational activities
82 read to their child or grandchild
71 registered to vote
35 obtained a library card
105 read the newspaper
50 attended an event at their child's school
Want to get involved with Literacy KC and help our students to continue to achieve their goals? Call 816-333-9332 or email info@literacykc.org.